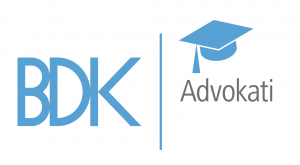 BDK Summer Internship Programme 2023 offers a comprehensive understanding of legal work, people, and culture, with the aim of helping you determine if commercial law is the right career path for you.
The four to eight-week program offers the opportunity to work alongside legal professionals in various departments such as Corporate & Commercial, Banking & Finance, Dispute Resolution, Real Estate & Construction, Mergers & Acquisitions, Intellectual Property and Data Protection and Privacy, Employment. You can expect a challenging and interesting experience, which will enable you to transition smoothly from theoretical to practical knowledge and improve your professional skills.
At BDK Advokati, we ensure that you receive adequate support throughout your internship so you can reach your full potential and get the most out of your experience. We will assign you a support network made up of a partner, senior associate, and an associate.
To be eligible for this program, you must:
be a 2nd or 3rd year law school student;
have high academic achievements and intellectual curiosity;
have pointedness in verbal and written communication in native and English language;
be motivated, and have the right attitude, drive, and ambition;
have commercial and business awareness;
be driven by professional growth.
 Benefits of working with us:
you will receive work experience equivalent to junior associate;
continuous training and education focused on developing drafting, research, and presentation skills;
feedback and support throughout your internship;
at the end of the programme an appraisal meeting will take place to discuss your performance and experience during your internship;
best participants have the opportunity to obtain a long-term cooperation program.
Learning and Development Modules:
Legal work experience
Legal competencies building blocks
Legal Career path finder
The program runs from June 15th to August 25th, 2023 and takes place in our offices in Belgrade, Serbia/Podgorica, Montenegro/Banja Luka, Bosnia and Herzegovina.
If you are an ambitious law student with excellent English skills who is interested in participating in our summer internship program, please send your CV and a short motivational letter to hr@bdkadvokati.com.
Summer internship will be fairly compensated